Western & Thai Cooking at your Home or our Academy
LET OUR 5-STAR EXECUTIVE CHEF TEACH YOU



It's easy to learn Thai cooking in Bangkok, but for those wishing to learn Western cooking—good luck!  Well, that is, until now.  Because of numerous requests, we're now offering Western cooking classes in our curriculum. Our cooking instruction is available both at your home or at our Academy.  This is Up To You.  Our Academy is located near Asoke & Sukhumvit.  This service and our chefs are available for teaching both Western and Thai dishes.
Anyone desiring to learn Western and/or Thai cooking–maids, Thai wives and girlfriends of Western men, and whomever else wishes to learn how to prepare delicious dishes can avail himself of our services. Instruction is done in English or Thai by our 5-star hotel executive chef having many years of culinary experience both in Thailand and overseas.
The term "Western" cooking refers to many types of cooking–French, Spanish, Italian, American, etc.  We have listed a limited number of Western dishes, but others are available upon request.  Listed here are some of the most popular dishes, but far from everything we can teach.
Here are the basics:
PRICE:
Classes at our Academy–2,800 baht for 1st student, 2,000 baht for each additional student
Classes at your home– 3,200 baht for 1st student, 2,000 baht for each additional student

Included in these prices are ingredients and recipes.

DISHES:  4 Western dishes or 5 Thai dishes
CLASS LENGTH:  3-4 hours
CLASS LOCATION:  Your home OR our Academy
AVAILABILITY:  Almost anytime, by appointment only
TYPES OF DISHES TAUGHT:  Western or Thai
LANGUAGE:  English or Thai
"WESTERN" COOKING CLASSES
Choose one of these courses:
| | |
| --- | --- |
| Course 1 | |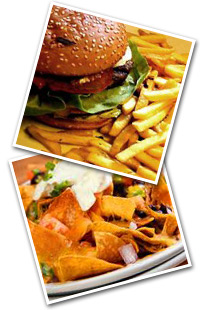 Eggs–

Omelettes
Poached
Hard-boiled
Scrambled
Fried
Flying saucer
Egg salad

Nachos
Seasoned Meatloaf
Hamburger & French Friesx
| | |
| --- | --- |
| Course 2 | |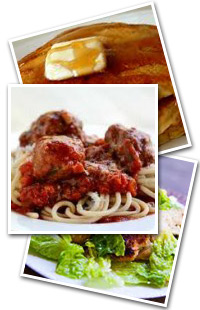 Pancakes & Crepes
Macaroni & Cheese
Spaghetti & Meatballs—Prepare sauce, prepare meatballs, boil pasta
Caesar Salad and prepare dressing
| | |
| --- | --- |
| Course 3 | |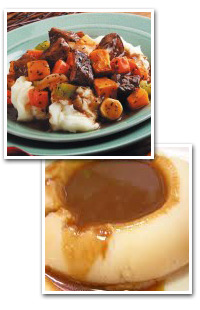 Biscuits
Beef Stew
Balsamic Herb Chicken
Potatoes—

French fries
Mashed
Baked
Sliced & smothered
Hash browns
Au gratin
Potato salad
| | |
| --- | --- |
| Course 4 | |
Doughnuts
Tuna Salad
Chicken Parmesan
Apple Pie Cobbler
| | |
| --- | --- |
| Course 5 | |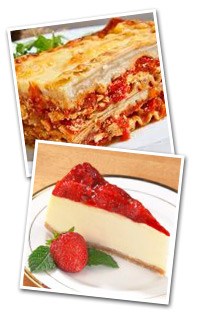 French Toast
Vegetable Beef Soup
Lasagna
Cheesecake
| | |
| --- | --- |
| Course 6 | |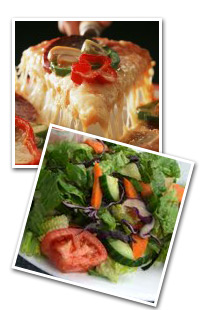 BLT Sandwich
Pizza—Prepare seasoned sauce, shred cheese, dress and bake to completion
Chicken & Tomato Wrap
Mixed Green Salad & prepare 2 salad dressings
| | |
| --- | --- |
| PURPOSE:  Teach familiarity with cooking, such as— | |
Use of cooking utensils
Working with appliances
Selection and preparation of ingredients
Cooking techniques
Achievement of correct flavors (vs. fusion)
BOOKING:
You can choose either a Western course (6 to choose from) or 5 Thai dishes.  To choose a Western course, please click here.  To choose Thai dishes, please click here.  Shortly after submitting your selection, we will reply.
PAYMENT:
Due upon completion of your class in Thai baht.
"UP TO YOU" THAI COOKING CLASSES
APPETIZERS
Chicken satay with peanut sauce (Gai Satay)
Fried spring rolls (Por Pie Tord)
Thai fish cakes (Tord Man Pla)
Thai fried corn & pork patties (Thod Mon Moo Khao Pode)
Fried canapes with prawn spread (Ka Nom Pang Nha Goong)
Beaten steamed egg with shrimp (Khai Tun)
Pork & tomato chili dip (Nam Prik Ong)
Fried Potcrust & Dip (Kao Tang Na Tang)
Chicken wrap with pandanus leaves (Gai Hor Toey)
SALADS
Papaya salad (Som Tam)
Spicy chicken salad (Laab Gai)
Glass noodle salad (Yam Wun Sen)
Pomelo salad (Yam Som-O)
Green mango salad (Yam Ma-Muang)
Thai grilled chicken salad (Yum Gai Yang)
SOUPS
Hot & sour prawn soup (Tom Yum Goong)
Hot & sour seafood soup (Tom Yum Phok Tak)
Chicken in coconut milk (Tom Kha Gai)
Wax gourd soup with chicken (Tom Juid Fak Gai)
Egg tofu & seaweed clear soup (Tom Juid Tao Hu Khai)
Stuffed cucumber in clear soup (Tom Juid Tang Gua Yat Sai)
CURRY PASTES (prepared with mortar & pestle)
Panang curry paste (prepare) (Nam Prik Gaeng Panang)
Yellow curry paste (prepare) (Nam Prik Gaeng Ka Ri)
Khao soy curry paste (prepare) (Nam Prik Gaeng Khao Soy)
Massaman curry paste (prepare) (Nam Prik Gaeng Masaman)
Green curry paste (prepare) (Nam Prik Gaeng Kheao Wan)
Red curry paste (prepare) (Nam Prik Gaeng Phet)
Jungle curry paste (prepare) (Nam Prik Gaeng Pha)
MAIN DISHES
Massaman curry with chicken (Gaeng Masaman Gai)–Combo**
Khao soy with chicken (Khao Soy Gai)–Combo**
Panang chicken (Gaeng Panang Gai)–Combo**
Yellow curry chicken (Gaeng Ka Ri Gai)–Combo**
Green curry chicken (Gaeng Kheao Wan Gai)–Combo**
Red curry with chicken (Gaeng Phet Gai)–Combo**
Jungle curry shrimp (Gaeng Pan Goong)–Combo**
Sweet & sour vegetables with chicken (Pad Preaw Wan Gai)
Thai-style fried rice noodles (Pad Thai)
Stir-fried chicken with basil (Gai Pad Kra Pao)
Stir-fried black pepper beef (Nua Pad Pik Thai)
Stir fried chicken with cashews (Gai Pad Med Ma-Muang)
Thai fried rice (Khao Pad)
Stir-fried eggplant with chicken & basil (Pad Ma Keau Yaw)
Deep fried chicken in tamarind sauce (Gai Thord Lad Sood Makham)
Pork in lime sauce (Moo Ma-Now)
Stir-fried shrimp with asparagus (Goong Pad Nor Mai Farang)
Yellow curry shrimp (Goong Pad Phong Ka Ree)
Stir-fried water morning glories (Pad Pak Bung Fai Daeng)
Stir-fried pork with snow peas (Tua Lun Toaw Pad Moo)
Stir-fried noodles with pork (Rad Na Sen Yai)
Stir-fried chicken with ginger (Gai Pad Khing)
Minced beef flat noodles (Guay Tiew Nue Sup)
Pineapple fried rice (Khao Pad Sapparot)
Stir-fried broccoli with oyster sauce (Pad Broccoli Nam Maan Hoy)
Minced fried catfish with green mango (Yam Pla Duke Foo)
Stir-fried pork, long beans & red curry (Pad Phrik King Moo Thua Fak Yao)
Fried sweet noodles with pork (Pad See Eeaw)
Stir-fried mixed vegetables (Pad Puk Ruam Mit)
**These count as 2 dishes as you will first learn to make the corresponding curry paste.
DESSERTS
Mango with coconut sticky rice (Khao Neaw Moon)
Coconut pancakes (Ka Nom Ba-Bin)
Coconut milk custard (Ka Nom Tuai)
Bananas in sweet coconut milk (Kluay Buad)
Rubies in coconut milk (Tub Tim Grab)
Steamed banana pastry (Ka Nom Kluay)
Tiny dumpling in sweet coconut milk (Ka Nom Bua Loy)
Sweet corn & tapioca with coconut milk (Sa Koo Bpiak Khao Pode)
Pumpkin custard (Sang Kha Ya Fak Thong)
Sweet coconut balls (Ma Prao Gao)
Coconut & pandanus leaf jelly (Wu Ka Tit Bai Toey)
Deep fried bananas (Kluay Tod)
Pumpkin in coconut syrup (Buad Fak Thong)
Fried bananas topped with honey (Kluai Thot Rat Nam Peung)
Note: Special request dishes not listed above might be available, but at an additional upcharge.
VEGETARIAN MEALS: Our chef will make adjustments to recipes as needed. Substitutions such as tofu, mushroom sauce, soy sauce, etc can be used. Please advise when booking of your needs, but be advised that Thai cooking is basically far from vegetarian-friendly.
BOOKING for UP TO YOU Classes (here):
Click on BOOKING to submit your request. Make sure to select the 5 requested dishes, day, date, AM or PM and a contact email address and, if possible, a phone number.
Note: We teach 6 of the World's 50 most delicious foods, according to CNN–#24 Fried Rice (Course 10), #19 Green Curry (Courses 7 & 12), #10 Massaman Curry (Courses 5 & 11), #6 Som Tam (Courses 10 & 11), #5 Pad Thai (Courses 3 & 12), #4 Tom Yum Goong (Courses 1 & 12).