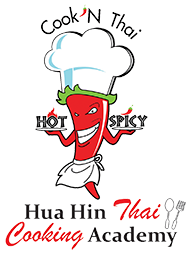 Variety Of Thai Food
Book your class today!
Snack : These savoury titbits can be eaten alone or as side dishes. Traditional favourites include stuffed dumpling, satay, crisp-fried noodles topped with sweet-and-spicy sauce, and spring rolls.
Chilli dips : Usually served with vegetables, meat or fish, chilli dips are very versatile. A dip can be a main dish or side dish, added to a pan of fried rice to flavour it, or drizzled on chips to liven them up. A cook will make up a bowl of dip from whatever is available, including chilies, garlic, onion, shimp paste, sour tamarind etc.
thai food snack: chicken saty
thai food chilli dips : spicy shrimp paste + fresh vegetables
Salads : Thai salads, called yam, are sour, sweet and salty. A simple dressing works equally well for meat, seafood, vegetable and fruit salads. This is made from fish sauce, lime juice and a dash of sugar. The heat comes from the fiery little chillies, but just how hot a salad should be depends on the texture and flavour of the meat, vegetable or fruit used. Fresh herbs such as marsh mint, lemongrass, kaffir lime leaves and cilantro are usually used as garnish.
Soups : Thai soups are either hot and spicy or clear and bland. The soup is served not as a first course but together with the other dishes, and can be spooned onto the plate of rice the same as the other dishes.
Desserts : Thai desserts are sweet, but not intensely so. Sticky rice with ripen mango, banana or flour dumpling in sweetened coconut cream and seasonal fruits in sugar syrups with crushed ice are favourites. Fresh fruit is always on hand to end a Thai meal.
thai food curry : red curry with roasted duck
thai dessert
Curries : The heart of all Thai curries is the curry paste, which is made from fresh herbs and spices. The paste is cooked in coconut cream before the meat or vegetables are added. Main ingredients in most curry pastes are chilli, garlic, shallot, galangal, coriander root and krachai, the latter a small indigenous root.