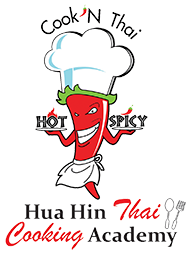 Top 10 Must-Not-Miss Thai Food Dishes
Book your class today!
Thai cuisine is one of the best gourmets in the world. It is well known for the diversity of ingredients, outstanding spiciness and ample medicinal properties. Most of Thai food is cooked and refined with more than two types of herbs or spices which are beneficial to health.
The (mostly unconscious) principle Thai food is the balance of five flavors which are spicy, salty, sweet, sour and bitter. The one indispensible ingredient which is generally used in seasoning a majority of Thai cuisine is fish sauce. Thai food is eaten either as a single dish or with rice. Steamed rice is the staple food although sticky rice is more popular in the north and northeast of Thailand.
Thai food is one of many things that you should not miss while you are traveling in this beautiful "Land of Smiles". Since there are numberless delectable Thai dishes, I am writing this guideline for you to select the most distinctive and authentic ones out of the plethora of Thai signature dishes.
The following list is a top 10 rank of Thai food that you must not miss. The consideration and ranking is based on the popularity, uniqueness and authenticity of the delicacies. Here are the winners.
10. Kai Pad Med Mamuang Himmapan (Stir-Fried Chicken with Cashew Nuts)
Even though Kai Pad Med Mamuang Himmapan does not represent the overview of Thai food but it is a very nice treat to your bland taste buds. Since it is by no means spicy or hot, this slightly sweet and salty chicken fried with crunchy cashew nuts is aptly satiating for children or beginners who are not used to spices.
9. Por Pia Tord (Fried Spring Roll)
Fried spring roll is one of the most popular appetizers among foreigners because it is not spicy and comes with sweet and sour dip. Spring rolls are crispy pastries with fried vegetable fillings. Though spring rolls are commonplace in many Southeast Asian countries, Thai Por Pia is different in flavors with a special dip prepared from Japanese apricot.
8. Panaeng (Meat in Spicy Coconut Cream)
Panaeng can be cooked using either pork, chicken or beef. Panaeng tastes like Thai red curry but the coconut milk sauce is relatively thicker and richer. Compared to Thai red curry, Panaeng is mildly spicy and sweet. Paneang is best served with warm steamed rice. There is nothing to dislike about Panaeng expect the fact that it can be too greasy or fleshy for some people.
7. Som Tam (Spicy Papaya Salad)
Som Tam is one of the most popular foods among Thai people for its fiercely spicy and sour flavors. Som Tam, which literally means "Sour Pounded", is a spicy salad made from a mix of fresh vegetables including shredded unripened papaya, yardlong beans and tomato. Som Tam is unique that the spicy dressing and salad vegetables are pounded and mixed in the mortar using a pestle. Somtam is usually served with grilled chicken and sticky rice. Som Tam is good for your health that it contains no fat, low calorie and high vitamins. This is a truly authentic Thai dish that will make a great impression. The only reason why I'm ranking Som Tam at No.7 (though it deserves higher rank) is its strong spiciness that might leave your tongue burned and swollen. Just say "Mai phed" (not spicy) to your waiter if you really want to try.
6. Moo Sa-Te (Grilled Pork Sticks with Turmeric)
This tantalizing sweet-flavored grilled pork sticks are refined with rich, juicy sauce made of turmeric and curry powder. Moo Sa-Te makes a savory hors d'oeuvres that will appease any taste buds. These juicy grilled pork sticks are usually served with two saucy dips – one is a mildly spicy thick sauce with ground peanuts, coconut milk and curry powder and another one is a sweet and sour vinegar sauce with chopped shallot, pepper and cucumber to mitigate its oiliness.
5. Tom Yam Kai (Spicy Chicken Soup)
Chicken soup is very good to eat when you have a cold but Tom Yam Kai or spicy chicken soup is a yummy treat that you will fall in love with just in a first sip. Tom Yam Kai is a clear chicken soup seasoned with a blend of chili, lime and fish sauce. The broth is simmered with Thai herbs as lemon grass, shallot and galangal which give it a unique and satiating aroma. My foreign friends order this tasty soup anywhere they go so you should not miss it by any means!
4. Tom Kha Kai (Chicken in Coconut Milk Soup)
Although Tom Kha Kai is another variation of chicken soup, it deserves the No.4 because of its unparalleled taste and popularity. Similar to Tom Yam Kai, the broth is prepared with many types of Thai herbs with the special addition of coconut milk that makes this soup unique. Though the soup is seasoned with chili, lime and fish sauce just like Tom Kha Kai, thanks to the coconut milk, the broth is milder and less spicy. This is probably more liked by non-spicy eaters.
3. Kang Keaw Wan Kai (Green Chicken Curry)
Since we are having three dishes in a row made of "Kai", you would have guessed that it is chicken in English. Not that chicken is particularly popular in Thai cuisine; it is usually used in most curry and soup. Kang Kiew Wan, literally translated as "Sweet Green Curry", is nicely sweet and slightly spicy and tastes very delightful with a proper blend of the spiciness from green curry chili paste, blandness from coconut milk, sweetness of sugar and saltiness of fish sauce. It is usually eaten with steamed rice or served as a sauce to rice noodle known as "Kanom Jeen" likewise to how you eat Spaghetti.
2. Pad Thai (Fried Noodle)
This national dish prides itself for its long history traced back in previous centuries. Pad Thai flaunts the authenticity of Thai culinary arts in using only fresh and best ingredients and the well-balancing of the five fundamental flavors. The stir-fried noodle becomes popular because it tastes yummy and comes with a choice to add in a set of seasonings to suit your appetites. Through history, Pad Thai has evolved into two different styles: the classic and the variation. The classic Pad Thai is a stir-fried noodle with eggs, fish sauce, tamarind juice, red chili pepper plus bean sprouts, shrimp and tofu and garnished with crushed peanuts and coriander while another style is relatively dry and lightly-flavored. The latter is easily found in street vendors and dominant in Thai restaurants in the West but the having classic Pad Thai freshly cooked in its original country is a way to go.
1. Tom Yam Goong (Spicy Shrimp Soup)
No other dishes can defeat this renowned Tom Yam Goong as the optimal representative of Thai gourmet. Tom Yam Goong is truly one of a kind with its fierce spiciness and sourness and a blatant use of fragrant herbs including galangal, lemon grass, kaffir lime leaves, shallot, tamarind and chili pepper. There are two styles of Tom Yam; the clear spicy soup and thick spicy soup. The latter is cooked by adding coconut milk or milk to the broth in order to thicken the stock and give the dish a milder flavor. Tom Yam is very versatile and can be made with prawns, chicken, fish and mix of seafood, and mushroom. Tom Yam Goong is the most popular variety of Tom Yam since Spicy Shrimp Soup is the original. Though not very surprising, Tom Yam Goong is definitely a signature dish of Thailand.
Even though it is commonly known that Thai food utilizes many health herbs and spices, there have always been debates whether Thai food is really good for health since they tend to be somewhat greasy. It is important to note that it depends on each dish; some can be highly caloric but many dishes make a good use of herbs. Garlic, for example, is very good healthwise because it can prevent heart disease, high cholesterol, high blood pressure and cancer.
No matter what the food is, the same old concept of moderate intake comes into play. From Mcdonald's burger to Japanese Sushi, a key to optimal fitness is to avoid overconsumption. Thus, a claim that Thai food is mainly coconut-based and fattening should never be an adequate reason for you to still order a Big Mac. Ravish your taste buds with Thai food – tasty and healthy!