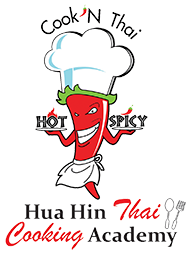 Thai Street Food
Book your class today!
Thai food's popularity is down to its amazing flavours and frankly there is no better place to get a taste of Thai cuisine than on a trip to the land of smiles. From the smallest street cart to the highest priced most expensive restaurant, Thai food is generally amazing.
Thai Street Food
No matter where you go in Thailand there is a huge orientation on food. In fact one of the country's general greetings that you will often hear is Gin khao ru yang?" (Have you eaten?), showcasing the orientation on good food.
Thai street food is available on every corner – serving everything from Noodles to fruit and everything in between. The flavours of Thai food are celebrated and there is no way to get any more flavoursome than on the street. The mixture of fiery chilli and lemon grass is a wonderful contrast and really brings out the life of the food.
Street food is also very low in cost and high in its ability to dazzle. So, when in Thailand ensure you stop at a vendor for a bite to eat. It only just comes ahead of the selection of foods available on Justeat.ie
Cooking Classes
Those visiting Thailand should ensure they take a Thai cooking class when visiting the country. Learning to cook Thai food in the Thai manner and not straight from a jar as we are accustomed is a great way to learn and improve your culinary techniques.
Most hotels offer people the chance to book one of these courses and learn how to cook food in the Thai fashion. Just like most things in Thailand this is not done in the usual boring manner and people will learn to choose ingredients with a trip to the market and a look and feel of all the ingredients needed before purchase. This is an exciting trip and one that give a great insight into Thai life.
You will then learn in a small group how to cook a meal under the instruction of a chef. This meal will be done to a great standard and when cooked you will be allowed eat it. This transferrable skill is great and allows you to bring home the knowledge to cook Thai food in the Thai manner. However, for times you are too tired choose Just-Eat.ie for something quick and easy.
Restaurants
Eating out in Thailand is a rewarding experience and depending on your budget there is a wide range of amazing Thai food available. Thai restaurants offer all sorts of takes on their own national dishes and some of the food is astoundingly good to eat.
Many Thai restaurants also cook a range of foods from a number of different countries, meaning you can get some excellently prepared food from around the world in some of these Thai cities. Looking online before you go out for dinner is a great way to get a good idea of where is good and where is not so good, though fortunately most places fall into the former category and not the latter. Just Eat offers a wide range of Thai food for those that want to bring the experience of Thailand home to Ireland.
Eating Out
If you have a little more money than the average, Thai five star luxury is for you. Thai hotels and restaurants in top class hotels are just well….top class. The attention to detail and the effort made in some of these eateries is second to none.
Food is the freshest of the fresh and the chefs the craziest of the crazy, meaning the attention to detail is second to none. This makes these restaurants an amazing experience for those that have a little more money than the average person who visits the country. Saying that this sort of luxury is nowhere near as expensive as top European or Western standards and most can stretch to the luxury for a once off.
The quality of Thai food and also the fact it is everywhere make it an astoundingly good food to try in Asia or through Justeat.ie. Just-eat.ie will have the food to your door from some of Ireland's best takeaways within minutesPsychology Articles, so browse just eat and choose your dish of the day.