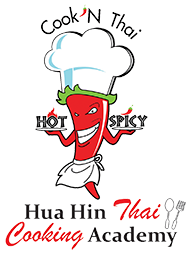 Thai Street Food
Book your class today!
Thailand is well-known as "the land of smiles." Thais are friendly and well-known as "food lovers." Many say "Thais love to eat. Thais eat several meals per day." In response to these comments, I have to say, yes, Thais love to eat but we eat 3 meals per day just like the rest of the world. The difference is that Thais love to snack. Our snacks range from fresh fruits to deep-fried food. In Thailand, it is so easy to find food. Street vendors are everywhere. If there are people, there are food. One of the greatest joys of living or traveling in Thailand is the abundance and variety of food.
Street vendors, street food, roadside stands, food stands, food stalls or whatever you would like to call it, simply involves something mobile that allows an owner (or a cook in most cases) to push them around, from home and back. Many people may think that street food is not clean, but in fact with many vendors it is clean. And many of the owners are unpretentious. The owners push a cart from home to their selling location and then back home and clean the cart every night. Street food offers an incredibly cheap price and some offer incredibly good taste. Sometimes it is even better than a famous restaurant.
Some street vendors offer such good food that you will have to wait for a table along the street. Particularly in these cases, street food is not only for poor or middle class people – you will often find a businessman or wealthy people ordering the street food. Do not expect a menu from a street vendor because there are not any. Most street vendors only offer one dish, just their specialty. Street food offers a wide variety of choices – curry, fried rice, noodle dishes, stir-fried, salad, fresh fruits, desserts, etc. Basically you name it. You might be able to even find grilled lobsters in China town at a reasonable price. Of course, I cannot forget to mention all the bizzare food like deep-fried frogs, deep-fried birds, deep-fried grasshoppers, etc.
The following are the top 10 street food dishes that I think are better than what restaurants have to offer. In other words, you should buy the following food from a street vendor rather than from a restaurant.
Som Tum – Spicy shredded green papaya salad with peanuts and tomatoes
Larb – Spicy minced meat with chopped shallots, onions, chilies and coriander
Khao Mun Gai – Steamed chicken with rice cooked in chicken stock and garlic
Jok – Rice porridge with ground pork, fresh ginger and green onion (some may add egg)
Lad Nah – Stir-fried thin or wide rice noodles with light gravy bean sauce and Chinese kale
Hoi Tod – Fried oysters in batter with egg on a bed of beansprouts
Pad Thai – Stir-fried medium rice noodles with egg, dried shrimp and fried bean curd sprinkled with peanuts (served with beansprouts)
Satay – Slivers of chicken or pork grilled on a stick, served with sauce and cucumber
Khao Moo Daeng – Chinese-style red pork with rice, boiled eggs and cucumber
Khao Tom – Rice soup with a selection of meat and vegetable side dishes
There is so much more street food than I can list here. The above 10 dishes are those I particularly think are better to buy from a street vendor. One of the greatest joys of living in Thailand is the opportunity to try out food from different places at a reasonable price. I grew up in Bangkok and I have to say that Bangkok has bad traffic. I mean very bad traffic. You can literally sit in a car or a bus for hours and hours. Even though people in Bangkok live with bad traffic, most people will travel a long way through heavy traffic just to eat street food. I have to say I was among them.
Another type of food vendors that I want to mention are not on land, but instead on canals (called Klong in Thailand). Along Klongs, you may find sellers paddling their boats selling fresh fruit and vegetables, noodle dishes, curries, etc. just like street vendors. The quality can be just as good as the street vendors.
Street food can be as good as restaurant food. It is fresh, cheap and good. Part of the fun of living in Thailand is the chance to find street food that is even better than food in restaurants. Some street food may not be as clean, but in many cases, vendors do a good job of making sure the food is clean. There is certainly food for working class people, and food can be found in a wide variety of locations. Next time when you smell some mouth-watering food, stop by and give it a chance. You will not only experience good food, but friendly people as well.