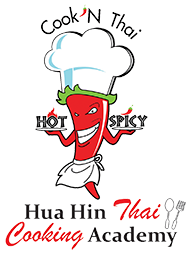 Thai Food : An Ancient Cuisine With a World of Influences
Book your class today!
Spicy, salty, sweet and sour, Thai cuisine is unique in the way that it touches upon each one of our taste capabilities at the same time, creating an explosive sensory response with each mouthful of a Thai curry or stir-fry. Perhaps this type of taste sensation explains, at least in part, the growing popularity of Thai cuisine throughout North America and the rest of the world. But exactly how did such a unique taste sensibility develop? What was it about the Thai people that inspired such wondrous combinations of flavors and tastes, allowing Thai cuisine, as we know it today, to come into existence?
thai food : stewed pork + eggs with five spices
thai recipe : thai noodle with prawns in gravy
Like many of the world's foremost cuisines, Thailand's culinary culture boasts an ancient history. By the thirteenth-century, the Thais were already enjoying what might be considered the heart of Siamese cuisine: various types of meat and seafood dishes combined with local vegetables, herbs and spices such as garlic and pepper, and served with rice. But unlike most other ancient cultures, the Thai people did not close themselves off from the world beyond their borders-quite the opposite. Increasing trade with other nations, especially those countries near or surrounding Thailand, such as Malaysia, Burma, Indonesia, India, and China, brought an influx of foreign ideas as well as cooking styles and even spices, cooking utensils, and ingredients.
For example, from India Thai cooks learned to make curries with turmeric, chillies, coriander, cumin, and other Indian spices. At the same time, they added their own pinch of originality in the form of local ingredients such as Thai holy basil, lemongrass, and galangal (Thai ginger).
From faraway China, Thai cooks received what is today their most essential cooking tool: the steel wok. Thanks to the Chinese, they were also introduced to noodles, and learned how to make their own. But because Thailand is one of the great rice-producing nations of the world, the Thais began making rice noodles (such as those used in Pad Thai) instead of wheat or egg noodles, though these are also occasionally used in today's Thai cuisine.
thai food : stir frying technique
thai recipe : red curry with chicken and bamboo shoot
The influence of other nations can also be detected, for example, in the fiery flavors of Burma, the sambals (chilli sauces) and unique rice dishes of Indonesia, and the curry-inspired flavors of Malaysia. It's interesting to note that one famous Thai red curry dish is even nicknamed "Penang" after a state in northwestern Malaysia.
As in life, so it is in cooking: we develop and prosper more fully when open to the things and people around us. It is because of such openness and sharing of tools, knowledge, information, and ingredients that the Thai cuisine developed and matured to the extent it did. And as you taste for yourself its fragrant aroma and unique combination of flavors, you'll sense that wonderful richness in every bite.