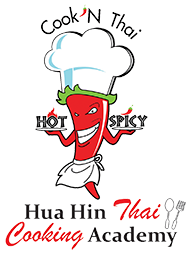 Thai Dinner for Two
Book your class today!
Do you have an anniversary, birthday, or other special day with your significant other coming up? Try a romantic Thai dinner, either dining out or cooking and dining in. There are many delicious and interesting meals to enjoy! Sometimes it is quite a challenge to come up with great menu selections. One might spend lots of time looking up or researching all the Thai dishes. There are really more than enough to choose from, and many great combinations, so don't beat yourself up trying to plan. This article outlines some choices for each part of the dinner.
Appetizers
Choosing a start up dish sometimes can be challenging. Try to choose a dish that is not too heavy. Choose a light dish but yet one that teases you to want more. My first choice would be "Kra Thong Thong", golden pastry cups with minced chicken and chopped vegetables. This appetizer is a cute little cup that will definitely impress him or her. The next choice is "Miang Kam", leaf-wrapped tidbits. This can be a fun thing to do and create nice start up conversations. It involves wrapping several kinds of little tiny items in a leaf, along with a sweet-and-salty sauce. The items include shredded roasted coconut, peanuts, diced lime, diced ginger, diced shallots and chilies. Third choice is "Po Pia Tod", deep-fried spring rolls.
Main course
Whether you are vegetarian or a seafood or chicken lover, don't worry, there is always plenty to choose from. Let's start with how many dishes to order or make. For 2 people, I would say 2-4 dishes. If you are dining out, two dishes are enough for two but might not have variety. Three to four dishes will definitely leave some leftovers for later days. However, if you are planning to cook them yourself, you can make a smaller amount of each dish. This way you can have more dishes for variety. Here are some different combinations of dishes.
Combination 1: for those who like things just a little bit spicy
Khao Ob Subparod: fried rice with meat, pineapple, onions and cashew nuts, baked in a pineapple
Kaeng Kiaw Waan: a slightly sweet green curry with meat and vegetables
Gai Pad Med Ma Muang Him Ma Paan: stir-fried chicken and cashew nuts
Chu Chi: stir-fried fish (or shrimp) with kaffir lime leaves, Thai sweet basil (Bai Ho Ra Pha) and chu chi chili paste
Combination 2: for those who like medium spicy food
Khao Pad Poo: fried rice with crab meat, eggs, tomatoes, onion and cilantro
Phanaeng: Thai southern style dry curry with meat, kaffir lime leaves and coconut milk
Gai Ho Bai Toey: fried chicken wrapped in pandanus leaf
Ho Mok Ta Le: steamed seafood custard
Combination 3: for those who love spicy food
Tom Yum Moo Pa: hot and sour soup with wild boar, mushrooms, cilantro, lemongrass, nam prik pao paste and chilies
Kaeng Leung: a hot yellow curry, most common meat used is fish. Other ingredients are winter melon, chilies, garlic, turmeric, lemon grass, shallots and shrimp paste
Poo Jaa: steamed crab with pork
Pad Ped Tua Fak Yao Moo: stir-fried long beans and pork with red curry paste
Combination 4: for seafood lovers
Goong Pad Yod Ma Proaw: stir-fried prawns with heart of palm
Poo Kan Chiang Nueng: steamed crab sculls
Hoi Lai Pad Ped: stir-fried clams with Thai sweet basil (Bai Ho Ra Pha) and roasted chili paste
Hoi Nang Rom Sod: fresh oysters with chilies and garlic dipping sauce
Desserts
To end your meal, it is great to aim for the right dessert that will perfect the dinner. After a non-spicy or spicy main course, something light is always a good choice. Some may already have an idea for dessert, Khao Niaw Ma Muang (mango with sticky rice). For a romantic dinner, I personally would choose something else. This is because sticky rice can be a bit too heavy as a dessert choice. You can be too full to eat but feel you should eat. So I would go with something nice and cold like Thai coconut Ice cream with ground peanuts sprinkled on top. Just a scoop or two would be enough. My second choice would be "Nam Kang Sai." This dessert is a combination of 2-3 items of assorted fruits, beans or sticky rice with shaved ice on top.
As you choose your dishes, consider how the taste, color and presentation go together. In doing so, you might find ways to improve the combinations. For example, to get you started, it is generally better not to choose food all of one color, or all chicken dishes or all spicy dishes. Try to balance one dish with another and create a harmony of dishes. This can help give you different tastes of sweet, salty, sour, bitter or spicy, and make the experience all the more enjoyable. Take these recommendations and run with them! The best part comes from your familiarity with what you and your significant other like, so have fun customizing. Bon appetit and have a nice dinner!