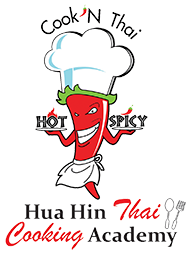 Thai Coconuts – What More Could You Want?
Book your class today!
Coconuts are the seeds that grow coconut trees. Given time, a coconut will sprout and take root. The juice and flesh of the coconut provide water and fertilizer to grow the young new tree. Coconut trees are grown throughout Thailand on raised beds with irrigation canals on each side. In some places, trained monkeys even harvest the coconuts. Coconuts provide juice to drink, flesh for eating or for making coconut milk, and play a role in many non-food items as well.
Coconut trees are treated as propitious in Thailand. They are often included in gardens along with other trees that include the word "ma" – for example, ma muang (mango), ma la gor (papaya) and ma prao (coconut) – to bring good luck and basic prosperity. Oil from coconuts is produced by first drying the flesh for several weeks and then pressing it. Sugar is made from sap of the seed pods of the coconut. Sap is boiled and set, and a light brown sugar (palm sugar) results.
Fresh coconut milk is widespread in Thailand. Thais often buy it freshly pressed (the first pressing yields creamy coconut milk, the second is more like water with nutrients). Coconuts are sometimes roasted which concentrates the sugar to make the flavor sweeter. Coconut milk is used in some Thai soups and curry dishes (such as green curry, massaman and panaeng curry) and can be a key ingredient in harmonizing a tasty flavor and consistency.
Coconut milk is used to make the sauce poured on mango with sticky rice. It is also used with black sticky rice desserts. In Thailand, one also often finds for dessert what appears like a buffet choice: many containers gathered together of freshly prepared fruits as well as items like lotus seeds or corn. The customer selects from some of the containers and these are put together over crushed ice and a fairly sweet liquid containing coconut milk. Speaking of desserts, another favorite is coconut ice cream – contrasted with making it from dairy products, a delicious version can also be found which is made from coconut milk and cream. It is slightly icy and some versions include small pieces of sweet coconut meat. Some Thai restaurants in the US have this. And of course on cooking, second best to fresh coconut milk is canned coconut milk.
In Thailand, one can also buy young coconut from stands on the street where the vendor will chop open the coconut for you and you can enjoy the fresh coconut and juice. There are a variety of other tasty snacks and appetizers as well. There are many examples of Thai food with coconut, which combine potential health benefits with enjoyable snacks and dishes. Coconut contains substances such as lauric acid known for benefits such as anti-microbial effects. Two other positives are that coconut oil does not contain trans fatty acids, and most of its saturated fat consists of medium-chain fatty acids rather than long-chain, which means it gets digested and used more easily and is less likely to be stored long-term as fat.
Interestingly, the fat and oil of coconuts contain many beneficial aspects. In addition to antiviral, antibacterial, and antiprotozoal functions associated with lauric acid, natural coconut fat helps normalize body lipids, protects against liver damage, and perhaps most importantly, improves the immune system's anti-inflammatory response (details on this are online at http://www.coconutoil.com/coconut_oil_21st_century.htm). Good saturated fats also contain micronutrients and vitamins that are vital to metabolism. Coconut milk helps balance cholesterol and metabolism, and provides valuable fatty acids. The positive aspects of coconut and palm oil generally are likely part of the reason Thais have such a low rate of heart disease.
There are non-food uses from the coconut tree as well. Dried shells are used in making kitchen utensils such as spoons, as well as other household items such as lamps. Some musical instruments are also made with the shells. The fibrous outer layer of the coconut is also used for fuel as well as roofs. It is also a component for cosmetics and soaps.
Thai medicine also makes use of the coconut (tree, leaf, shell, juice). To conclude, suffice it to say there are a rich variety of food and non-food uses for coconuts!