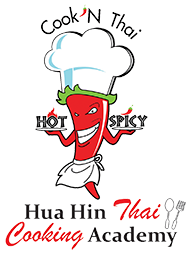 Papaya/mango Salad Thai Style
Book your class today!
Papaya salad is almost as much a staple part of my diet as rice is. For sure if I eat out and am not given any som tam, I will soon after be found at a roadside food vendor, correcting the deficiency.
If you lived on a diet of som tam and not much else, it is highly unlikely you would ever become fat.
Some restaurants use mango instead of papaya. Generally though I find mango to be too acidic for this purpose.
Ingredients to serve 4 people
1 medium sized green papaya, 4 small plum tomatos, 1 carrot, 10ml tamarind juice, 25ml lime juice, 2 cloves garlic, 50gm prik kee noo, 10gm brown sugar, 25ml nam pla, 25gm dried shrimp, 50gm unsalted roasted peanuts.
Peel the papaya and shred the green flesh (if you don't have a suitable implement for the purpose a coarse cheese grater may work).
Also peel and shred the carrot.
Put the shredded papaya and carrot in the fridge.
Soften the dried shrimp in a few mls of boiling water.
Pound the garlic and the prik kee noo together in a pestle and mortar.
Separately pound the peanuts together with the shrimp, but only until coarsely broken up, not reduced to dust or paste.
Mix the tamarind, juice, lime juice, fish sauce and the sugar.
Chop the tomatoes into quarters.
Mix all the ingredients together and serve in a bowl. Most restaurants would drain off some of the excess juice before serving, but I usually keep it.