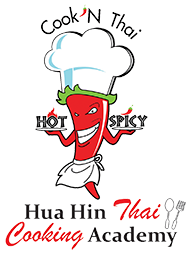 Mouth-Watering Thai Desserts – The Flour
Book your class today!
A friend of mine told me that my article, " Mouth-Watering Thai Desserts" on August 9th, 2008, does not have information on flour used in Thai desserts. My friend was right – I mentioned flour in one of the seven main ingredients but I did not write anything about flour. Thus, continuing from the previous article on "Mouth-Watering Thai Desserts" this article will focus on flour used in Thai desserts. Taken together, these two articles give a fuller picture of Thai desserts.
The following are the common flours used in Thai desserts: sticky rice flour, rice flour, cassave starch, corn starch, wheat flour, arrowroot starch and mung bean flour.
Sticky Rice Flour (แป้งข้าวเหนียว – paeng khao niaw)
Sticky rice flour is also referred to as "sweet rice powder" or "glutinous rice flour." It is made from short-grain sticky rice that becomes moist, firm and sticky when cooked. This is due to its proportionally higher number of waxy starch molecules. With its chewy texture, sticky rice flour is a favorite base for buns and pastries. Sticky rice flour is often combined with plain rice flour to create a variety of Thai desserts.
In Thailand there are 2 types of sticky rice flour: wet and dry. Wet sticky rice flour is finely milled with water, whereas dry sticky rice flour is finely milled without water. When buying sticky rice flour, choose products that have a white color and no smell or moisture.
Example desserts using sticky rice flour are Paeng Jee (grilled coconut cakes), Bua Loy Benjarong (taro, pumpkin, and mung dal bean balls in coconut milk) and Khanom Thua Paep (mung bean stuffing coated with shredded coconut meat).
Rice Flour (แป้งข้าวจ้าว – paeng khao jao)
Rice flour is used to thicken various dishes and is also an important ingredient in various Thai desserts. Rice flour is a good substitute for wheat flour, in that the latter causes digestive system irritation in those who are gluten intolerant. However, rice flour should not be used or substituted in some desserts like cakes. This is because rice flour is not finely milled like cake flour, and would not yield the same quality of desserts. In Thailand, there are 3 types of rice flour:
rice flour made from rice older than a year – good for absorbing water,
rice flour made from new rice – does not absorb water as well because of its moisture, and
rice flour made from new rice without water – excellent at absorbing water.
Beyond the type of flour, there are many grades for each type. To buy rice flour, choose products with a white color and absence of an old smell. If you plan to make a dessert using rice flour, find flour that was finely milled so your dessert will have a smooth texture.
Example desserts using rice flour are Khanom Chan (nine-layered dessert) and Khanom Thuay (coconut cakes).
Wheat Flour (แป้งสาลี – paeng sa lee)
Wheat flour is a fine white powder that has high gluten content. There are different types of wheat flour depending on the types/characteristics of wheat used and the milling process. The common wheat flours are bread flour, all purpose flour and cake flour. These 3 types of wheat flour are different in the percentage of protein contained in the flour. Bread flour has the highest percentage of protein, 12%-13%, followed by all purpose flour at 9%-10% and cake four at 6%-9%.
Protein content is an important key for a buyer to know because it yields different result in cooking. High protein content means more water will be absorbed and there will be a longer mixing time to achieve optimum consistency. Thus the desserts/snacks that are chewy or sticky usually use the high protein content wheat flour.
Mung Bean Flour (แป้งถั่วเขียว – paeng tao khiaw)
Mung bean flour is made from mung beans. It is a gluten-free flour. Some brands offer a very fine texture of flour. If the flour is not finely ground, one must grind it before use to prevent lumps. Mung bean flour comes in a variety of colors depending on how much it has been precessed. When cooking mung bean flour (with water on a stove), it turns transparent. One of the most well-known uses for mung bean flour is in so-called glass/clear noodles, very fine noodles made with a highly refined form of mung bean flour. When raw, these noodles are almost transparent, and they turn completely transparent when cooked. Khanom Salim is a Thai dessert that requires mung bean flour and cannot be substituted. Khanom Salim is sweet mung bean threads in syrup with coconut milk on top. It is served cold with ice. The mung bean thread is colored with natural colors like Flower of Chitoria Tematea Linn (Dok Un Chun) yielding a blue or lac (krang) yielding a red.
Cassave Starch (แป้งมัน – paeng mun)
Cassave starch is often called tapioca starch (แป้งสาคู – paeng sa koo). It is a refined white flour which is made from cassava root. Cassave starch is very finely textured, and is a common substitute for arrowroot starch and cornstarch. Cassave starch is gluten-free and easy to digest. It is often added to gluten-free baking as a thickener. It is broadly used as a thickener for sauces, soups and desserts in Thailand. In desserts, cassave starch is almost always used in blends with other types of flour so that desserts are more soft and sticky than when using only one type of flour.
Corn Starch (แป้งข้าวโพด – paeng khao pod)
Corn starch is made from corn kernels and is finely textured. Corn starch is best dissolved in cold water. When cooking corn starch (with water on a stove), corn starch tends to form lumps. Thus, it is important to stir frequently on low heat. It is used as a thickener and used in blends with other types of flour like rice flour.
Arrowroot Starch (แป้งท้าวยายม่อม – paeng thao yay mom)
Arrowroot Starch is made from the root of the marantha arundinacea. In Thailand, arrowroot starch consists of tiny white balls that must be ground before using. However, in some brands, arrowroot starch is a fine powder just like cassave starch. Arrowroot starch is a gluten-free flour that has no identifying taste or scent. It is used as a clear thickener with any mixture or in blends with other types of flour. Its thickening power is about twice that of cassave starch. Arrowroot starch is used in many Thai desserts.
Thais love desserts and they have been a part of our lives for a long time. Thai desserts cannot be perfected without attentive use of flour. For some desserts, some types of flour can be substituted for each other, but in other cases substitution is not advisable. Each type of flour has its own characteristics, which in some cases preclude substitution, depending on how they interact with the rest of the dessert. When making delicious authentic Thai desserts, it is more important to closely follow the recipe than it is for non-dessert kinds of dishes. Enjoy the many wonderful tastes and textures of Thai desserts!