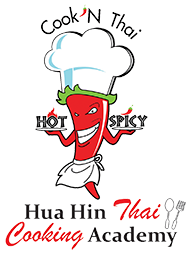 Introduction to Thai Food
Book your class today!
Thailand's cuisine has a startling diversity that is a gem to behold with different regions contributing to a cuisine that is infused with a multitude of flavours. What did the early Thai's eat? Evidence from the Paleolithic Period suggests water chestnut, gourds and cucumber.
Let's say Thailand has come a very long way on the culinary front. You can get a Thai meal just about anywhere these days, it's much better known as a cuisine than its neighbours – Cambodia, Laos and Malaysia.
Ethnic Thais came from a minority group in southern China, first settling in the far north (Chiang Mai) and eventually, moving south. Thus, Thai cuisine borrows its philosophy from the Chinese: a balance of salty, sweet, sour, bitter and spicy-hot. Most of all, Thai cuisine includes some VERY hot and spicy food!
REGIONAL VARIETIES : People in the northern region (close to Burma and Laos) prefer a glutinous variety of rice as well as thinner curries. Ubiquitous to the dinner table is a pork sausage called Naem as well as dishes such as Ook Gai (red chicken curry with lemongrass) and Khao Soi, a pork curry infused with tamarind and ginger.
Thais refer to the northeast area as "Isan," considered the poorest region of all. Isan plates include snail curry and an exceptionally odiferous fermented fish. On the more popular end though are the spicy green papaya salad (Som Tam), fish ground with curry paste (Haw Mok) and spicy minced pork or chicken (Laab). A favourite that has made it across the border from Laos is the crispy crepe filled with bean sprouts, dried shrimp and other fresh ingredients.
Once you head to the lush South, you'll see a lot more Malaysian influences with Chinese and Muslim flavours: lots of stir-fries, soups, curries and coconut. The most common curries are: red (chicken), green (pork and seafood), yellow (with potatoes, chicken/beef), massaman and panang – using beef and lamb.
The abundance of seafood is also prevalent: squid, mussels, prawns, scallops, crabs and rock lobsters. Seafood is prepared grilled or steamed or sometimes baked in a claypot. Some prominent dishes include Tom Yam, soup flavoured with lemongrass and chilies.
There are hearty helpings of peanut sauce and plenty of fragrant fruits such as rambutan, mangosteens and papayas. Let's not forget veggies that include cabbage, water spinach (tung choi), mushrooms, cucumber and pumpkins. Stir-fried veggies are often blended with garlic, chilies and purple basil.
THE PALACE PALATE : During the peak of Thai monarchy, there were as many as 3,000 people living within the walls of Bangkok's Grand Palace. Many daughters of noble families grew up within the palace, learning how to prepare some very refined food.
Besides creating intricate floral arrangements, many were taught to spend hours fabricating some very artful food. They were taught the fine crafts of carving fruits such as watermelons, mangoes as well as embellishing dishes with spring onion flowers.
Some dishes include Look Choop in which small imitation fruits shaped by a mixture of coconut milk and bean paste and then coloured to look like the real thing. As well, there was Mee Grob – crisp rice noodles and shrimp in a sweet-sour sauce – and Foi Thong, a nest of silky gold threads made by a blend of egg yolks and sugar.