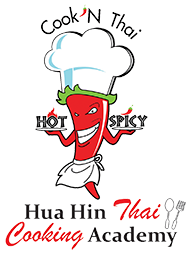 How and what do Thais eat?
Book your class today!
The majority of Thais do not use many of the formal eating manners of Westerners; Thais have their own set of manners based largely on practices of communal eating. Thais put a lot of emphasis on eating as a social activity. For Thais, eating should be a simple pleasure and does not involve complex rituals of etiquette. Today, a fork and spoon are widely used, and the general practice is to use the fork to push food onto the spoon. The spoon is generally held in the right hand and serves as the only utensil from which to take bites. Eating straight from the fork is considered crude. The use of the fork and spoon is attributed to King Rama V in the latter part of the 19th century. He found no use for knives since Thai food is already chopped up. Chopsticks are sometimes used, particularly for eating some noodle dishes influened by the Chinese. While a fork and spoon are commonly used, for some parts of Thailand, such as in the east or north east, eating by hand is still common. There is also an exception for sticky rice as most Thais would eat sticky rice with their hands.
When dining out, senior women in a group usually order for all (although others do the ordering sometimes). All dishes can be shared, over several courses. Steamed rice is a mainstay of communal meals and is always served first for each individual. Then, only in small amounts (1-2 tablespoons), food is dished up and put on top of the rice. Thais do not like to pile different food on top of their rice because the tastes might get mixed together. Thais generally eat dishes one at a time and then come back to eat the next dish. Piling up food or overloading your plate with food is considered rude and uncouth as there is no hurry and more food can be ordered as needed.
Thais love to eat, six to seven times per day is not very uncommon. Thais also love to dine out in a group of friends and family. Eating alone is not very common. There are restaurants and food stands (food vendors) almost everywhere in Thailand. Thais' generally don't think in terms of dieting. Most Thais eat often but small amounts each time. Thais eat breakfast, lunch and dinner; however, many Thai people snack a lot, almost any time of the day or night. Snacks can include a wide range of choices, such as a bowl of noodle soup, fruits, fried food or desserts.
Thai food is famous for its spicy quality, but there are many mild or non-spicy dishes. Rice is a staple food. Typical breakfast dishes for Thais are:
Jok: ground rice soup with minced pork and ginger, with green onions sprinkled on top, and egg can be added;
Khao Tom: rice soup with a selection of meat and vegetable side dishes;
Kao Loa Lead Moo: soup which consists of various pig organs such as kidney, liver, heart and stomach as well as ground pork and prepared blood;
Khao Man Kai: rice cooked in chicken broth with slices of boiled chicken on top.
Lunch usually includes quick dishes like noodle soups, fried noodles, rice dishes and curries. Dinner is generally served communally in a series of large plates or bowls. There is always steamed rice and 4-5 side dishes, and at least one soup. The 4-5 side dishes consist of a wide variety of food, at least one vegetable dish, one seafood dish, one meat dish, and one spicy dish. Examples of dinner dishes are: curry dishes, dry curry dishes such as Phanaeng, steamed crab (Pu Neung), deep fried fish (Pla Thod), roasted sliced squid (Pla Meuk Yang), fried rice (Khao Pad), Tom Yum soups, etc. After the meal, Thais like desserts. There are so many kinds of dessert in Thailand. Depending on the type of dessert and preference of the eater, sometimes the dishes are shared. The famous desserts are Mangoes with Sticky Rice (Khao Niaw Ma Muang), Bananas in Coconut Milk (Kluay Buat Chi), and combinations of fruit with ground up ice (Nam Kang Sai).
Almost every street corner has a selection of food vendors selling a wide variety of snacks, from fried insects (such as grasshoppers) to Spring rolls. Examples of snacks are: Coconut pudding (Khanom Krok), Sticky rice in banana leaves (Khao Tom Mud), Spring rolls (Po Pia Tod), Charcoal-roasted eggs (Kai Ping), Steamed tapioca with minced pork filling (Sa Koo Sai Moo), Fried fish balls (Luk Chin Tod), Fried fish cakes (Tod Mun) and Charcoal-grilled chicken (Kai Yang). As for drinks, there are many kinds, such as fresh juice, tea, Thai iced tea, soda, water and beer. Fresh juice can be pineapple, coconut, cantalope, mango, and orange.
The many enticing combinations of foods, as well as the cultural styles of eating, help enhance life and represent many opportunities for creativity and enjoyment.