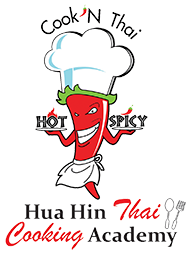 Getting Introduced to Thai Food
Book your class today!
Are you having a standard American dinner tonight? Bored with chicken, potatoes, salad and pasta? Thinking of Thai food but nah it seems hard to cook? Well, Thai food should be easy and quick to prepare. In Thailand, street food or food vendors are everywhere in a city or small town. There are all kinds of street food, appetizers, noodle soup, curry, desserts, fruits, etc. I would say this is our way of life in Thailand. It is common to find a very good food vendor, even better than a restaurant. Most street vendors in Thailand did not go to a culinary school. How do they make such yummy food? Mostly it is from helping in a kitchen.
As I mentioned, Thai food is prepared easily and quickly. Thai food is all about putting the right ingredients together. In America, finding a restaurant that serves authentic Thai food can be somewhat challenge especially if you are not living in a big city. I have been to many Thai restaurants in Oregon, and most of them offer Thai food that is very Americanized. Some dishes are way too far from the original Thai food except the name of the dish.
If you have not been to a Thai restaurant or eaten much Thai food before, going to your local Thai restaurant is an option to get acquainted with Thai dishes. Go with your friends so that you can try a variety of dishes. Also, using the Internet, you can find authentic Thai recipes. You might ask what kinds of elements define an authentic Thai recipe.
Ingredients make a difference. If a recipe requires lots of standard American vegetables, it is not likely to be a real Thai recipe. If you find a recipe that has lots of unrecognized names or something that is uncommon to find in the local grocery store, that might be it. For example, in Thailand, a green curry dish has four main vegetables: Thai eggplants, pea eggplants, kaffir lime leaves and Thai basil. Americanized green curry might have green beans, carrots, eggplants, or perhaps tomatoes.
If this is your first time to make a Thai dish, plan ahead. Find the dish you like on the Internet or in a Thai cookbook. Learn about the ingredients and visit either a local or online Asian grocery store. Templeofthai.com and importfood.com are popular websites specializing in authentic Thai ingredients and products. They carry almost everything from flour, sauces, curry paste, noodles, cookware, fresh produce and vegetables. Don't be discouraged. Really, making Thai food is not too complicated. It is easy once you have and know your ingredients.
Another component is having the right cooking equipment. Many people say having a wok is a minimum requirement, but I would say it depends. It is a nice thing to have. If you have an electric stove, using a wok is not going to do much for some dishes. But if you have a gas stove, adding a wok in your kitchen could spice up your meals because of how gas stoves distribute heat. I have a wok at home but also an electric stove. So I do not really use my wok that much at all because with the electric stove, it does not distribute heat evenly to the side of the wok. Mortar and pestle are needed if you like to make your own paste. Many people find ways to use a food processor instead. It is certainly a substitute, but in my opinion, it does not deliver the same texture of paste.
When you are ready to cook, following your recipe directions is a good start. However, when it comes to taste, follow your own preference, given that taste varies from person to person. You will need to find your own balance for seasoning your dish. If the recipe tells you to add 2 tablespoons of fish sauce, add 1 tablespoon first. Taste it and see how you like it. If you would like more, then add more. As my mom always told me, "it is easier to fix the taste if you add little at the beginning. If you add too much at first, you might not be able to fix it."
Thai cuisine is versatile and offers a range of flavors and textural variety. It is aesthetically pleasing, and there are many ways to make Thai cuisine part of an enjoyable culture experience. Cheers to Thai food!