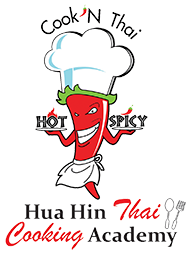 Get To Know Thai Food
Book your class today!
When you think of Thai food, you would think of the 'Hot and Spicy' taste and probably believe that all Thai food are very hot and spicy. That is a misunderstanding. And you may also think that we eat everything by chopsticks. That is also not true.
More than 50% of Thai food are not hot and spicy at all. And chopsticks will be use when we eat noodle only. We are not Chinese or Japanese who like to eat almost everything by chopsticks.
If you have been to Thailand, you may have a question that why the taste and the texture of Thai food in Thailand are different from Thai food you have eaten in Thai restaurants in your country. One reason I would say is that maybe some ingredients are not available in your country so they need to skip some of them or use something else as a substitute. Another reason is that maybe the owner of that Thai restaurant and their chef or cook are not Thai. It would sound a bit arrogant to say that only Thais know the best how to cook Thai food with authentic Thai taste. But it is very true, isn't it ? So do other countries food, no one could cook Swiss food better than Swiss people and no one could cook Italian food better than Italien people. Because we grew up with our food, we know what the right taste of each dish should be and what ingredients should or should not be used in that or those dishes. Each Thai dish has their own character.
As a Thai, I am so proud of Thai food that it is now well-known by people around the world as well as Italian, French, Chinese and Japanese food. We are now in Top 5 most popular cuisines of the world.
Thai food is world renowned for being very healthy for its use of many fresh vegetable and herbs. The popularity of Thai food is due to its wonderful medley of different tastes : sweet, sour, salty, hot, spicy, creamy, bitter and mind. The variety of different flavours, textures and colors, and the way that the food is presented make Thai food very exciting and appealing.
In Thailand the main evening meal generally consists of several small dishes with different tastes and textures that are served at the same time and shared by everyone at the table. Each person has a plate of steamed rice to eat with the shared food. Thais do not put everything on their plates at once because we do not want to mix the different tastes of the meal. We like to appreciate all the different tastes and textures separately.
Thais like to eat with a spoon and fork. Knives are not used at the table due to everything are already cut into a bite size. Chopsticks are only used to eat noodles.
Food for breakfast and lunch are not much different from food for dinner but they are easier to cook and need not much time to prepare such as rice soup, rice noodles, stir-fried rice, etc. Noodle is a good option for our lunch due to there are many noodle shops on almost every single road.
There are also many light dishes that Thais like to eat between main meals, for example : satay, spring rolls, papaya spicy salad, deep-fried or grilled meat balls, minced pork sausage with glass noodle, etc.
Thai desserts are well known for being beautiful and delicious. Coconut milk, rice flour, palm sugar and eggs are the main ingredients for almost all Thai desserts. Shallots, ginger, sticky rice, peanuts and pumpkin are sometimes also used in some Thai desserts. Banana leaves are often used for wrapping food in many styles. We have plenty of desserts, both hot and cold, with many different textures and colors.
Vegetable and fruit carving is a fine art that you will find at many Thai restaurants. The decorative carving helps to make Thai dishes much more interesting and amazing.
The popularity of Thai food and the many Thai restaurants that have sprung up all over the world have led to an increased availability of Thai ingredients in supermarkets everywhere. Let's visit an Asian grocery in your town and see what Thai dish you would like to cook at home today.