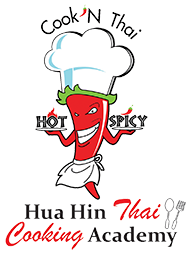 Creating Thai Food To Your Taste
Book your class today!
The art of Thai cooking has been developed and refined over many centuries. This art has placed emphasis on the harmonious blending of various ingredients, particularly as the individual ingredients can vary by freshness and so forth. Without harmony the taste and the dish fall short. The art of Thai cooking not only emphasizes harmony of taste, but also places value on the use of color and texture in a dish.
Over the centuries, most Thai dishes have drawn from the realm of herbs, roots, plants, spices and seeds to perfect the flavor, texture and presentation of a dish. The five elements of taste in Thai food are: sweet, salty, sour, spicy and bitter. There are no set ground rules for characteristics of Thai food, due largely to variables such as the region, the chef, or the occasion. The brand or processing of ingredients is also sometimes a factor.
When cooking Thai dishes, one may follow a recipe, but use it as a guideline when it comes to taste. Taste varies for each individual, sometimes in response to the above variables such as ingredient quality or occasion, and thus the tastes of the recipe author may or may not reflect one's own taste.
The sweetness of a dish not only comes from the vegetable or meat, but also from the processed sugar. There are many types and brands of sugar which certainly do not provide the same sweetness. In many Thai desserts, coconut palm sugar is required. However, some recipes may suggest palm sugar as a viable substitute. Both coconut palm sugar and palm sugar come from natural sources and are interchangeable; however, they differ from each other in taste and aroma.
In Thai cooking, fish sauce is one of the most important seasoning components, and there are a wide variety of brands to choose from. One brand may be saltier than others. Adding fish sauce little by little is always a good practice. Adding lime juice to crank up the sourness is a common practice in Thai cooking. However, there are so many types of limes, such as Key Lime, Limequat, Mandarin Lime or Sweet Lime. Each lime type has some sour flavor, but some also have a flavor of sweetness in them like Limequat and Sweet Lime.
Thais love spiciness and it has even become a trademark for Thai food. There are many types of Thai chili, and in practice, use varies by dish. The two famous chili types are Prig Kee Noo (spicy) and Prig Chee Fah (not very spicy). Within the Prig Kee Noo family, there are also different types with different degrees of spiciness. In Thailand, for instance, when Thais order Som Tum (Papaya Salad), the waitress or seller will ask "how many chilies do you want?" For some, just one Prig Kee Noo can burn the mouth. Curry pastes, another example, have different degrees of spiciness with each brand.
The flavor of bitterness usually comes from vegetables, herbs, plant or spices. Bitter Melon is a well-known vegetable for its bitterness. However, it is a very common vegetable in Thailand because of its nutritious content, especially antioxidants. Proper cooking, built on adding the right amount of sauces and ingredients can definitely remove most of the bitter flavor if not all.
Also consider coconut milk, which is used widely enough that it contributes significantly to coconut being considered a kind of Thai staple food item. Canned coconut milk and fresh pressed coconut milk can make a difference in the outcome of the dish since many Thai dishes use either thick (first pressed milk) and/or thin (second or later pressed milk). Canned coconut milk is usually thicker than fresh first pressed coconut milk. Today, coconut milk powder is available in the market for making coconut milk. With coconut powder, one can make thick and thin coconut milk by simply adjusting the amount of water. Coconut milk is one other example among many of a variable ingredient which helps set the stage for harmonizing dishes.
Since herbs, roots, plants and seeds have played important roles in Thai cooking, proper cooking is critical. This is because improper cooking can destroy the nutritional value, flavor or texture of ingredients. It is also very important that dishes must be a harmony of tastes within individual dishes and the entire meal.
Following a recipe is a good idea, but when it comes to taste follow your own preference. Know your ingredients and start adding flavor items in small amounts. Most Thai dishes can be fixed to some extent. If it is too sweet, adding a little bit of fish sauce will fix the problem and vice versa. If it is too sour, add a little bit of water; sugar or fish sauce will help. The harmony of tastes is a key to Thai dishes. However, some may disagree with a philosophy of harmonious flavor because some may like to have some flavors fighting in one's mouth. It is after all very much about one's preferences and taste. While the above highlights some elements in the art of Thai cooking, there are also important contributions made to Thai cooking by a variety of creative approaches. Thai cooking is a rich and living art that can lead to many new adventures.