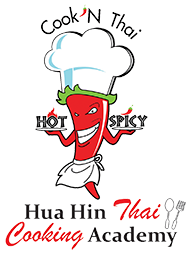 Cooking the best Thai Green Curry
Book your class today!
The features of the best Thai Green Curry are prime chunks of tender chicken simmered in a homemade green curry sauce along with fresh, healthy vegetables. This recipe is made different by making the Green Curry paste yourself. The result is a gourmet-style aromatic Thai green curry and beautiful to serve. The key to a good green curry is in not only using the right ingredients, but knowing when to add them. Only use small pieces or cuts of chicken, this allows for faster cooking and the freshest possible taste. Preparation time is 25 minutes and cooking is about 20. SERVES 2-3 Ingredients:
1 to 1.5 lbs. boneless chicken thigh or breast, cut into chunks
8 kaffir lime leaves (can be purchased at most Asian food stores)
A handful of fresh basil
1 can coconut milk
1 red bell pepper, de-seeded and cut into chunks
1 cucumber, sliced lengthwise, then cut into chunks
2 Tbsp. Sunflower oil
GREEN CURRY PASTE:
4 small green Thai chillies
1/4 cup shallot, diced
4 cloves garlic, minced
1/2 stalk lemongrass, sliced thinly
1+1/2 tsp. ground coriander
1/2 cup fresh coriander leaves and stems, chopped
1 thumb-size piece galangal (Thai ginger), grated
1 tsp. ground white pepper (can be purchased at some supermarkets, OR at Asian food stores)
1 Tbsp. soy sauce
2 Tbsp. fish sauce, plus more to taste
1 tsp. shrimp paste (or one extra Tbsp of fish sauce if unavailable)
1 tsp. sugar
Preparation:
Prepare the chicken and chop the bell pepper and cucumber.
Prepare the lime leaves by tearing the leaf away from either side of the stem. Discard the central stem. Then, using scissors, cut the lime leaves into thin strips. Reserve.
Take the "Green Curry paste" ingredients and in a mortar and pestle, or food processor, make a paste. If necessary, add a few Tbsp. of the coconut milk to help blend ingredients. Set aside.
Heat up a wok or large frying pan over medium-high heat. Add the oil and swirl around, then add the curry paste.
Stir-fry briefly to release the fragrance (30 seconds to 1 minute), then add 3/4 of the coconut milk). Stir well to mix in.
Add the chicken, stirring to incorporate. When the curry sauce comes to a boil, reduce heat to medium or medium-low, until you get a nice simmer.
Cover and allow to simmer 3-5 more minutes, or until chicken is cooked through. Stir occasionally.
Add the red bell pepper and cucumber, plus the strips of lime leaf, stirring well to incorporate. Simmer another 2-3 minutes, or until vegetables are softened but still firm and colourful.
Do a taste-test for salt, adding 1-2 Tbsp. fish sauce if not salty enough. If you'd prefer a sweeter curry, add a little more sugar. If too salty, add a squeeze of lime or lemon juice. If too spicy, add more coconut milk. Note that this curry should be a balance of salty, spicy, sweet and sour, plus bitter (the bitter is found in the fresh basil garnish).
Serve this curry in bowls with rice served separately, allowing guests to add their own. Top each portion with fresh basil, then drizzle over 2-3 Tbsp. coconut milk.
The above recipe is popularly used at most restaurants in Thailand. Asia Privilege Club is a free VIP membership Club which offers our members benefits and cash savings at many of these Thai Restaurants which serve the traditional and the best Thai Green Curry.