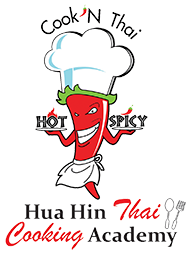 The Mouth Watering Thai Cuisine
Book your class today!
Thai cuisine is fast becoming internationally famous. The food reveals a great deal about the country – its political history, geography and trade. Thailand, as it developed, was influenced by countries like India and China and it's clearly shown in the food. Yet Thai cuisine, like its people, has maintained its own unique identity.
The distinct flavors of Thai cooking come from the local spices and produce: coconut milk, lemongrass, tamarind, ginger, garlic, basil, palm sugar, turmeric, peppers, shallots, spring onions and chili which has become one of the main players in Thai taste and much Thai food is fiery hot. Fish sauce and shrimp paste appear in nearly every recipe as well. Making the taste a harmonious blend of the spicy, salty, subtle, sweet and sour. Thai food is mostly stir-fried, boiled, steamed, some are grilled but, like most countries in the region, a lack of fuel in the old days precluded baking.
Some of Thai most well known dishes are Tom Yum Gung – spicy prawn soup with herbs, Pad Thai – stir fried rice noodles, Gaeng Khiew Waan – sweet green curry, Tom Kha Kai – Spicy and sweet soup with chicken and galangal, Panang – dry sweet curry, Som Tam – papaya salad, among other tasty dishes.